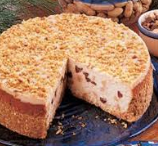 Ingredients
Edit
8-inch pkg chocolate crumb crust
¼ cup Hershey's semi-sweet chocolate chips
2 cups Reese's peanut butter chips
1 pkg (8-oz) cream cheese, softened
½ cup packed light brown sugar
3 egg yolks
¾ cup unsalted roasted peanuts, chopped and divided
1 cup chilled whipping cream, whipped
Directions
Edit
Heat oven to 350 F. Heat crust in oven 5 minutes. Remove from oven ; sprinkle with chocolate. When chips melt, spread over bottom of crust. Refrigerate until chocolate hardens, about 5 minutes. Meanwhile, melt peanut butter chips; cool slightly. Blend cream cheese, melted peanut butter chips, brown sugar, and egg yolks until smooth. Fold in ½ cup peanuts and whipped cream. Spoon into crust; sprinkle with remaining ¼ cup peanuts. Cover; chill until firm.
Ad blocker interference detected!
Wikia is a free-to-use site that makes money from advertising. We have a modified experience for viewers using ad blockers

Wikia is not accessible if you've made further modifications. Remove the custom ad blocker rule(s) and the page will load as expected.