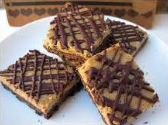 Ingredients
Directions

1-1/4 cup all-purpose flour
1 cup powdered sugar (sifted if you have time – I didn't)
1/2 cup unsweetened cocoa powder
1/4 teaspoon baking soda
1/4 teaspoon salt plus an extra pinch
12 tablespoons cold unsalted butter
1 (8-ounce) package cream cheese, softened
1 (14-ounce) can (1-1/4 cups) sweetened condensed milk
1 tablespoon instant coffee crystals dissolved in 1 tablespoon hot water
2 large eggs
1/2 cup semi-sweet chocolate chips

Preheat oven to 350 degrees F.

Line a 13×9 inch metal baking pan with Release foil or line with regular foil and spray foil with cooking spray.

Combine flour, powdered sugar, cocoa, baking soda and salt in bowl of food processor. Add butter and pulse until coarse and mealy. Alternatively, you may mix dry ingredients in a bowl and cut in butter with a pastry cutter. Press into bottom of pan and bake for 15 minutes.

Rinse out food processor bowl – no need to use soap. Add cream cheese and condensed milk and process until smooth. Add coffee and process; add eggs and process just until eggs are mixed in. Alternatively, you may beat the ingredients together in a mixing bowl. Pour over crust. Bake for 20 minutes or until set.

Cool completely on a wire rack then refrigerate. When firm, cut into squares. Melt chocolate chips in the top of a double boiler or in a heat proof bowl set over simmering water. Transfer melted chocolate to a resealable plastic bag and with a scissors, snip off a tiny corner of the bag. Drizzle melted chocolate over squares.

Note: I actually did the drizzling before cutting the squares and things worked out fine.[1]

Makes 24

Notes and References
Ad blocker interference detected!
Wikia is a free-to-use site that makes money from advertising. We have a modified experience for viewers using ad blockers

Wikia is not accessible if you've made further modifications. Remove the custom ad blocker rule(s) and the page will load as expected.