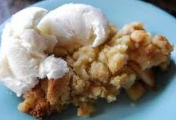 Ingredients
Directions

1 egg
¾ cup sugar
½ cup all-purpose flour
1 tsp baking powder
Pinch salt
1 medium tart apple, peeled and diced
½ cup raisins
Whipped cream or ice cream, optional

In a mixing bowl, beat egg. Add sugar, flour, baking powder and salt. Stir in apple and raisins. Spread into a greased 9-inch pie plate. Bake at 350 F for 25 to 30 minutes or until golden brown and a toothpick inserted near the center comes out clean. Serve with whipped cream or ice cream if desired.
Ad blocker interference detected!
Wikia is a free-to-use site that makes money from advertising. We have a modified experience for viewers using ad blockers

Wikia is not accessible if you've made further modifications. Remove the custom ad blocker rule(s) and the page will load as expected.