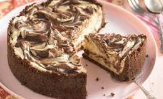 Ingredients
Edit
1 lb Oreos, crushed
1 cup macadamia nuts, chopped
½ tsp ground cinnamon
1 stick butter, melted
1 cup sugar
4 jump eggs, shelled and warmed in microwave 2 minutes
1 Tbsp instant coffee, dissolved in 1 Tbsp hot water
8 oz semisweet chocolate, melted
2 Tbsp unsweetened cocoa
1 tsp vanilla
3 cups sour cream
¾ cup macadamia nuts, chopped
4 Tbsp butter, melted
Directions
Edit
Crust: mix ingredients well and pat into bottom and sides of 10-inch springform pan. Set aside. Filling: beat all ingredients until smooth. Bake at 350 F 50 to 60 minutes or until set.
Ad blocker interference detected!
Wikia is a free-to-use site that makes money from advertising. We have a modified experience for viewers using ad blockers

Wikia is not accessible if you've made further modifications. Remove the custom ad blocker rule(s) and the page will load as expected.