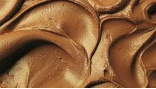 Ingredients
Edit
2 cups whipping cream
2 cups (12-oz) semisweet chocolate chips
3 ½ cups confectioners' sugar
Directions
Edit
In a medium saucepan, bring cream to a simmer, about 160 F; remove from the heat. Stir in chips until melted. Place pan in a bowl of ice water; stir constantly until cooled. Gradually whisk in sugar until smooth and thick. Yield: 4 cups.
Ad blocker interference detected!
Wikia is a free-to-use site that makes money from advertising. We have a modified experience for viewers using ad blockers

Wikia is not accessible if you've made further modifications. Remove the custom ad blocker rule(s) and the page will load as expected.