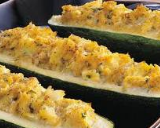 Ingredients
Directions

1/2 lb. imitation crab
4 zucchini (about 7")
2 eggs, beaten
1 cup shredded cheddar cheese
1/2 cup small curd cottage cheese
1/4 cup green onion, chopped fine, green part too
1/2 tsp. salt
dash pepper

Wash zucchini and trim ends. Cook until tender in boiling salted water and cover for about 10 minutes. Cut zucchini in half lengthwise, scoop out seeds and drain zucchini shells. Combine crab and remaining ingredients. Spoon into shells and bake on greased baking sheet at 350 degrees for 15 minutes, then 450 for 5 minutes.
Ad blocker interference detected!
Wikia is a free-to-use site that makes money from advertising. We have a modified experience for viewers using ad blockers

Wikia is not accessible if you've made further modifications. Remove the custom ad blocker rule(s) and the page will load as expected.