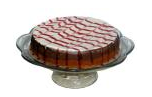 Ingredients
Edit
2 ½ cups chocolate wafer crumbs
1/3 cup butter, melted
½ cup sugar
8 oz semisweet chocolate (½-inch cubes)
¼ cup strong hot coffee
3 (8-oz pkgs) cream cheese (1-inch cubes)
1 (8-oz container) sour cream
1 cup sugar
2 eggs
2 Tbsp whipping cream
1 tsp vanilla
¼ cup raspberry syrup
Raspberry sauce
Edit
1 (10-oz pkg) frozen raspberries, thawed
2 tsp cornstarch
Directions
Edit
Preheat oven to 350 F. Combine crumbs, butter and ½ cup sugar and press on bottom and sides of a 9-inch springform pan. Refrigerate. Grind chocolate in a food processor, add coffee and continue processing until chocolate is melted and smooth. Add cream cheese, sour cream, sugar, eggs, whipping cream and vanilla until well blended. Pour mixture into prepared pan and bake 55 minutes. Center will be soft. Cool to room temp, then cover and chill at least 8 hours.
Raspberry sauce
Edit
Drain raspberries, reserving juice. Put berries through a food mill and discard seeds. Combine juice, puree and cornstarch in a saucepan, stirring until smooth. Cook on medium heat until thickened and smooth. Cool. Remove cheesecake from pan. Serve each slice in a pool of raspberry sauce.
Ad blocker interference detected!
Wikia is a free-to-use site that makes money from advertising. We have a modified experience for viewers using ad blockers

Wikia is not accessible if you've made further modifications. Remove the custom ad blocker rule(s) and the page will load as expected.